Social media company Twitter has suspended the account of the Boğaziçi University rector's office after the prestigious school experienced more than two months of protests against President Recep Tayyip Erdoğan's appointment of a government loyalist as the new rector, Turkish media reported on Wednesday.
The suspended account with the username @bounrektorluk was being managed by Melih Bulu, an unsuccessful candidate from the ruling Justice and Development Party (AKP) for parliament in 2015 who was appointed as the university's rector at the beginning of the year.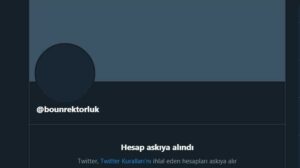 The rector's office has not yet made any official statements about the suspended account, local media said, adding that the suspension must have taken place as a result of complaints to Twitter by those protesting Bulu.
By appointing Bulu as the new rector, the president disregarded the decades-long tradition at Boğaziçi University to select its rector from among its professors and through an election. The students and academics who have been protesting for weeks, therefore, demand Bulu's resignation and the appointment of a rector from within the university following an election.
Bulu's appointment is feared to end academic freedoms and individual liberties at the university, which has long been seen as a bastion of liberal values.
Since the beginning of the demonstrations in early January, hundreds of protestors been detained in over 30 provinces across Turkey. The youth-driven demonstrations have echoes of protests in 2013, known as the Gezi Park protests, which erupted against plans to demolish a park in İstanbul's Taksim neighborhood before spreading nationally and presenting a direct challenge to Erdoğan's rule.