Although Turkey eased coronavirus restrictions at the beginning of March, the country has been registering worrying increases in the daily number of coronavirus cases, which is raising concerns about a third wave of infections.
Turkey reported 13,215 new coronavirus cases and 64 deaths in 24 hours on Monday. The daily number of coronavirus infections was below 10,000 at the beginning of the month.
As part of a "controlled normalization" announced by the Health Ministry, restaurants and schools are open depending on the infection rates across Turkey's 81 provinces, which are coded blue, yellow, orange or red in line with the level of infections per 100,000 people.
According to the latest ministry map, the number of high-risk provinces has increased from 39 to 48, and Turkey's most densely populated city of İstanbul and the capital city of Ankara have joined the list of high-risk provinces from moderate-risk status.
İzmir Governor Yavuz Selim Köşger also said the number of coronavirus cases in the city saw a 50 percent increase in the week of Feb. 27-March 5 in comparison to the previous week and that the city may soon join the list of high-risk cities. İzmir was among the low-risk cities when the ministry first announced the coronavirus map in mid-February.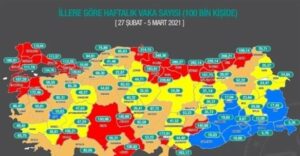 Turkish Medical Association (TTB) second president Associate Professor Ali İhsan Ökten said in a statement that more than half of Turkey's 81 provinces are now in the high-risk category, adding: "This means we are a high-risk country in the pandemic. We have not yet seen the effects of the controlled normalization. With the reopening of schools, we will see a further increase in the number of moderate-risk and high-risk provinces. A bad picture will then emerge."
Ökten said Turkey should increase anti-coronavirus measures rather than going into a controlled normalization or normalization.
Professor Esin Davutoğlu Şenel from the Ankara-based Gazi University's infectious diseases department also said during a radio program on RS FM that the government needs to do something about the high-risk provinces, or else those cities will see tragic developments.
"The weekly coronavirus map shows that when we don't take measures, the colors will change to red. It says the red cities will not by themselves turn blue. We have actually observed this in the past 13 months. The epidemic is going toward the third wave," she warned.
As of March 8 Turkey had registered a total of 2,793,632 coronavirus cases, while the coronavirus death toll stood at 29,094.
Turkey reported its first coronavirus case on March 11, 2020.