Cevheri Güven
New allegations have surfaced that Heysem Topalca, a key figure in arms smuggling from Turkey to Syria who died on Feb. 10 in a suspicious traffic accident in Turkey, has been for the past three years residing in Konya under the protection of the National Intelligence Organization (MİT). An anonymous source who spoke to Turkish Minute said Topalca was left free to move around inside the country thanks to an MİT-fabricated ID card that was provided to him.
Topalca, who after the outbreak of the Syrian civil war went from being a food smuggler operating in the city of Latakia to a regional arms smuggler, died in a car crash on Feb. 10 in Konya. Turkish Minute reported on the accident on Tuesday, with extensive details about Topalca's background, including a lengthy prison sentence for his al-Qaeda links and two outstanding detention warrants due to terrorist acts in Turkey. The accident confirmed claims that Topalca, who was detained and released twice by the police in 2014, was still in Turkey. The source who spoke to Turkish Minute said he had been under MİT's protection for a long time and that it was with the help of MİT that he had ultimately settled in Konya.
The source also said that after being exposed in 2015, Topalca was removed from the southern border province of Hatay where he allegedly participated in the smuggling of arms as well as jihadists into Syria. According to an al-Qaeda report drafted by Turkey's General Directorate of Security (EGM), he had crossed the Turkish-Syrian border a total of 873 times between 2011 and 2014. After making the headlines in 2015 in contraband-related reports, he vanished without a trace, along with his family who had been residing in Hatay's Yayladağı district.
According to the source Topalca and MİT developed deep relations amid the Syrian civil war, and Topalca rented a warehouse in an industrial complex in Hatay to be used in the transfer of weapons. The source said Topalca was supplying arms to every militant group in Syria that needed them and that he was moved away from the border region after his cover was blown and his name was implicated in numerous terrorism-related incidents.
Topalca in the past had been captured by the police over the transfer of chemicals to be used in making sarin gas. However, he was released despite his 12-year conviction on terror charges. His name is also mentioned in a trial related to a bomb attack in the border town of Reyhanlı that killed 53 people as the person who loaded explosives into the vehicles. According to the source MİT moved Topalca and his family to the Central Anatolian province of Konya in 2017 and gave him a new identity.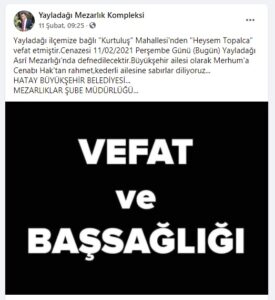 Topalca lived in Konya until the fatal traffic accident on Feb. 10. The ID card recovered from his body was issued in the name of "Heysem Tabalci." His son confirmed his death on social media. His body was brought to Hatay's Yayladağı district and buried there on Feb. 11.