Turkish President Recep Tayyip Erdoğan has attracted widespread criticism after he called a woman during a party rally who had lost her son 24 hours earlier in a "rescue operation" conducted by Turkey in northern Iraq.
Addressing members of his ruling Justice and Development Party (AKP) in the Black Sea province of Rize on Feb. 15, Erdoğan talked to the mother of deceased sergeant Mevlüt Kahveci over the phone, telling her she was "honored by the martyrdom of [her] son."
The grieving mother was unable to speak, sobbing over the phone, while Erdoğan went on propagandizing his AKP after the call, which was televised live by mainly pro-government TV channels.
The Turkish Armed Forces ended a military operation in the Gara region of Iraqi Kurdistan on Sunday and announced the death of 13 kidnapped Turks, including security force members.
Ankara claimed the outlawed Kurdistan Workers' Party (PKK) executed hostages held in a cave in the region for several years. The PKK denied the allegations, saying a heavy Turkish bombardment killed the 13 people.
Main opposition party leader Kemal Kılıçdaroğlu on Tuesday targeted Erdoğan over his remarks and tone during the rally in Rize.
"He didn't care that we had 13 martyrs. I ask all citizens to watch his Rize speech. Those chuckles, the laughter, the jokes… I have never seen anything like what he put the mother of the martyr through. Erdogan is in fine form; the mother is crying. He lectures her and uses her as a propaganda tool. Turkey can see how you have fun and laugh," he said.
Ahmet Davutoğlu, a former prime minister and the leader of a new opposition party, was among Erdoğan's critics, accusing him of exploiting the death of 13 people for political gain.
In a video published on Twitter on Monday, Davutoğlu said the Turkish president ignored the mourning mother's sobbing and took advantage of her grief for his political propaganda.
Giran Özcan, pro-Kurdish Peoples' Democratic Party (HDP) representative to the US, condemned Erdoğan over his "party rally speech," saying Turkey's claims about the Gara killings were not reliable.
"This act in itself puts everything [the Turkish government] is saying about #Gare in doubt: Erdoğan puts grieving mother of [the] soldier killed in Garê on [the] speaker at party congress & says, 'not everyone is fortunate to feel the pride you feel.' Mother is only heard crying," he wrote on Twitter.
This act in itself puts everything TR govt. is saying about #Gare in doubt:

Erdogan puts grieving mother of soldier killed in Garê on speaker at party congress & says, "not everyone is fortunate to feel the pride you feel." Mother is only heard crying. pic.twitter.com/NfLDaQjnfK

— Giran Ozcan (@GiranOzcan) February 15, 2021
Columnist Levent Gültekin criticized Erdoğan during a TV show on Monday and recalled that the Turkish president's two sons had fulfilled their compulsory military service by paying for it rather than by serving.
"You did not send your children to the military, and you praise the martyrdom of other people. Can you imagine a president congratulating a mother on the death of her son?" he asked.
Several social media posts also criticized Erdoğan over his making jokes and laughing during his speech a day after the loss of 13 people in a military operation.
This is not the first time Erdoğan has faced backlash over his rhetoric on the death of soldiers.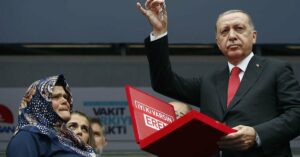 In 2018 he was harshly criticized when he gave the keys to a new home during a political campaign to the mother of Eren Bülbül, a 15-year-old boy who was killed during the Kurdish-Turkish conflict.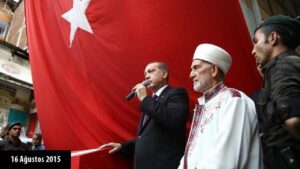 In 2015 he delivered a speech during the funeral of a soldier killed during clashes with the PKK in southeastern Turkey while putting his hand on the coffin.
Critics said he used the coffin as a "lectern" for a political speech, which defines his approach to the clashes and the loss of life.