Cevheri Güven
After a crisis with the US that resulted in the removal of Turkey from the F-35 joint strike fighter program and the cancelation of a planned US-sponsored modernization of the country's sizeable fleet of F-16s, Turkey is seeking the solution in armed drones. The Bayraktar Akıncı, an unmanned combat air vehicle, has been designed to carry out air-to-air and air-to-ground attacks, representing a new step in Turkey's recently increasing drone capabilities. Able to remain in the air for 24 hours and to carry the same kind of weapons as the F-35, the satellite-controlled drone is expected to ease the burden on air force fighter jets as its delivery is scheduled to begin in 2021.
While Baykar Savunma (Baykar Defense), owned by President Recep Tayyip Erdoğan's son-in-law Selçuk Bayraktar, has been manufacturing drones for years, its prestige truly took off thanks to its recent accomplishments amid Turkey's involvement in conflicts in Syria, Libya and Nagorno-Karabakh. Baykar has gotten the lion's share of the growth seen in Turkey's defense spending, and now an ongoing rift between the Erdoğan government and Washington has presented the company with an opportunity for a second breakthrough.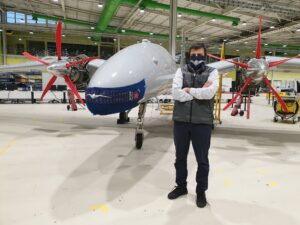 Turkey was removed from an international program to manufacture the new generation F-35 stealth fighters following its purchase of the Russian-made S-400 missile defense system, which Ankara pursued despite strong objections from its NATO allies, most notably the US. Former US President Donald Trump towards the end of his term in office approved sanctions against Turkey under the Countering America's Adversaries Through Sanctions Act (CAATSA), which ruled out Turkey's designs to modernize its F-16s in cooperation with the US. In an attempt to hold on to its relative air superiority in the region, Ankara has stepped up efforts to bolster its drone capabilities as a potential alternative to its fighter jets and intensified the cooperation between the air force and Baykar Savunma.
The Bayraktar Akıncı has been a milestone in the country's drone program. After two test prototypes, a third prototype was recently finalized for manufacturing. Selçuk Bayraktar emphasized that the new model would relieve some of the burden on the air force's fighter jets.
#AKINCI PT-3… 🐳

Yuvadan uçmadan önce evde son selfie… 😉🤳#MilliTeknolojiHamlesi ✈🐳🚀🇹🇷 pic.twitter.com/ok1L1X0BMn

— Selçuk Bayraktar (@Selcuk) January 21, 2021
Capable of carrying F-35 weapons
The Bayraktar Akıncı has been enabled to carry SOM-J, a high precision cruise missile developed specifically for the F-35 in Turkey. With its armor-piercing capability and a range of 277 kilometers, the missile was developed jointly by Turkey's TÜBİTAK and Roketsan as well as Lockheed Martin from the US.
Priority: the Aegean and the Mediterranean
With a wingspan of 20 meters, Bayraktar Akıncı was designed to operate at an altitude of 40,000 feet and to remain in the air for as long as 24 hours, which makes it suitable to for deployment to the Aegean and the Mediterranean, the scene of tensions with neighboring Greece.
Its electronic support systems, dual satellite communication systems, air-to-air radar, collision avoidance radar and synthetic aperture radar are features often found in fighter jets. Akıncı is also able to carry a 1.5 ton payload and to conduct electronic warfare, gather signal intelligence, surveil large areas and hit ground targets. Its weaponry will be manufactured entirely in Turkey, while the guidance systems are imported from Germany.
Its turboprop engine, the Ivchenko-Progress Motor Sich Al-450-T supplied by Ukraine's National Industrial Portal, is another aspect that makes the drone foreign-dependent. Baykar Savunma has purchased 12 of these engines thus far.
In October a Ukrainian delegation headed by Deputy Prime Minister and Minister for Strategic Industries Oleg Urusky made a visit to Turkey that was focused on defense cooperation. The engine purchase for the Bayraktar Akıncı was the main agenda item of their meeting with senior Turkish officials, including Minister of Industry and Technology Mustafa Varank. During the visit Urusky described Turkey as a "strategic partner."
While Baykar Savunma is owned by Erdoğan's son-in-law Selçuk Bayraktar, some of the major components of their drones are manufactured by state-owned defense corporations such as Roketsan, which develops all the weapons it carries; ASELSAN, which manufactures radar systems; and TÜBİTAK, which supports Baykar in developing some of its much-needed technological components. Baykar focuses mainly on the software aspect of the drones such as autonomous flight and artificial intelligence.
Turkey's defense industry exports more than $2 million
In 2020 Turkey earned revenue of $2.279 million in exports related to defense and aviation, which accounted for 1.3 percent of the country's overall exports. The figures saw the most significant increase with respect to Azerbaijan and the United Arab Emirates (UAE) as exports to Azerbaijan grew by 194 percent compared to the previous year and reached $260.8 million. A military escalation between Azerbaijan and Armenia in the fall of 2020 arguably contributed to the increase. Another major market was the UAE, with which Turkey has been at odds for years. Exports to the Gulf state stood at $200.2 million in 2020, a 51 percent increase over 2019.