Turkish civil society groups across Europe organized events and protests in 35 cities on Sunday, International Women's Day, to raise awareness about rights violations of women in Turkey.
A group of associations, platforms and initiatives that gathered under the umbrella of the Peaceful Actions Platform, organized panel discussions and marches where participants raised women's rights issues in Turkey, with a particular focus on femicides and the issue of female political prisoners.
Banners and brochures prepared for the occasion included information about journalist Ayşenur Parıldak, who has been in jail for more than three years due to her reports and social media posts; teacher Halime Gülsu, who died behind bars after prison authorities deprived her of critically important medication; and activists Acun Karadağ and Melek Çetinkaya, whose protests against government practices received nationwide attention.
In Råneå, Sweden, the activists handed out specially designed cookies containing notes about the stories of victims in Turkey, while in London a protest featured a "mobile prison" symbolizing the mass incarceration of women in Turkey, sometimes with their babies or immediately after giving birth.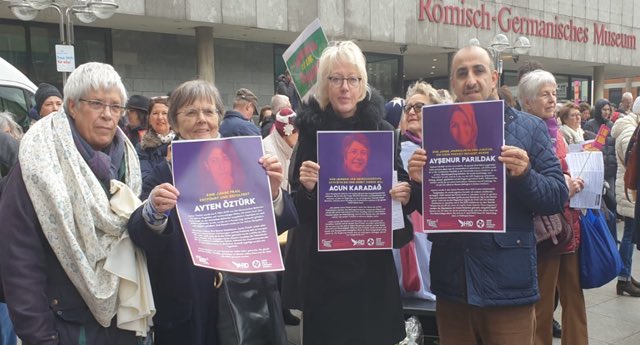 A total of 479 femicides took place in Turkey in 2019. Studies show that 36 percent of Turkish women confirm having suffered physical violence from a spouse, partner or male family member at some point in their lives.
Since a failed coup in July 2016, the mass political incarceration of people as part of a government-led crackdown has impacted the country's women, with an estimated 11,000 behind bars over alleged links to the Gülen movement alone.
The Turkish government accuses the movement of orchestrating the attempted coup, although the movement strongly denies any involvement in it.
The crackdown has also targeted women from Kurdish and leftist backgrounds, most notably Figen Yüksekdağ, the former co-chair of the Peoples' Democratic Party (HDP), who has been in jail since November 2016.
On Sunday Turkish police in İstanbul forcibly dispersed female activists trying to hold a Women's Day demonstration, repeating a scene that also took place in previous years.
Activists Çetinkaya and Karadağ frequently face detention, sometimes even before starting their protests.