Yalçın Ayaşlı, a US-based Turkish businessman, on Tuesday filed a federal racketeering complaint in New Hampshire accusing Sezgin Baran Korkmaz, chief executive of SBK Holding in Turkey, who has ties to President Recep Tayyip Erdoğan, of taking over his airline through a campaign of violence, extortion and financial crime, Adam Klasfeld from the Courthouse News website reported.
Ayaşlı's airline company, Borajet, was officially taken over by SBK Holding in December 2016.
Represented in his 127-page lawsuit by the law firms Jones Day and Sheehan Phinney, Ayaşlı accuses Korkmaz of running a thuggish campaign to devalue Borajet and then buy out the company with the illicit proceeds at a "fire sale" price using his İstanbul-based SBK Holdings.
The suit also accuses Korkmaz of assault, attempted bribery and threatening to rape and murder Ayaşlı's female executive, Zahide Üner, who was detained last week by Turkish police as she was fleeing the country.
On Feb. 18 a Turkish businesswoman, Necla Zarakol, was detained as part of an investigation into Borajet executives and later released pending trial.
Within a span of six months, Ayaşlı alleges that Korkmaz sent him 137 text messages, including WhatsApp warnings that "You and your wife will look for a place to hide" and "I will disgrace you before the eyes of the whole world."
After a coup attempt in 2016 in Turkey, Ayaşlı was on the target of pro-government Turkish media for having alleged ties with the US-based Islamic cleric Fethullah Gülen and his network, which is accused of orchestrating the abortive putsch.
"In the wake of the coup, the RICO enterprise used the Turkish media to spread lies, rumors, and accusations in the media linking Dr. Ayasli to the coup attempt, and claiming that Dr. Ayasli, and his business and charitable interests had treasonous and conspiratorial ties to … Gulen himself," the complaint states.
Korkmaz and his coterie of associates and linked entities are described in this section of the complaint as the "RICO enterprise," an abbreviation for the US law passed to break up organized crime syndicates.
"Taking advantage of a deeply suspicious public and the 'State of Emergency' declared by the government, the RICO enterprise capitalized on its connections to and influence over various Turkish media outlets," the complaint states.
As the associates of Korkmaz in Turkish media, Ayaşlı's lawyers pointed out Mahmut Övür, a columnist at the pro-government Sabah daily; Soner Yalçın, an author and journalist for nationalist opposition daily Sözcü; and Ergün Diler, editor-in-chief of the pro-Erdoğan Takvim daily.
According to the lawsuit, one article in the Turkish media claimed that Ayaşlı used a BoraJet aircraft to secretly fly Gülen into Turkey to plan the coup, and another splashed a photograph of a man identified as Ayaşlı on its front page.
Korkmaz also became a figure in US prosecutor Robert Mueller's investigation into Russian interference in the 2016 US presidential election.
Late last year, federal prosecutors charged Korkmaz associate Ekim Alptekin and Bijan Kian, a member of President Donald Trump's transition team, with failing to disclose a foreign-influence campaign that snared Michael Flynn, the disgraced ex-national security adviser who admitting to acting as a secret agent for Turkey.
The racketeering complaint against Korkmaz lists Alptekin, who remains a fugitive from US criminal charges, as a nonparty co-conspirator.
"Alptekin witnessed defendant Korkmaz assault Dr. Ayasli's female CFO, Zahide Uner, and heard defendant Korkmaz threaten to stalk, rape, and then murder her," the complaint says.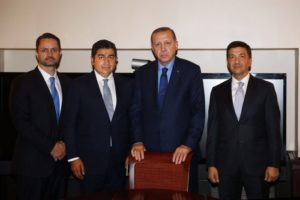 Korkmaz's labyrinthine ties to the Turkish elite and the murky underworld of American financing can be encapsulated in a picture, Klasfeld wrote.
Taken in 2017, the same year Mueller subpoenaed him for a grand jury in Washington, the photograph shows Korkmaz standing between Erdoğan and an accused white-collar criminal.
Along with his brother Isaiah, with whom he leads a polygamist Mormon sect, Jacob Kingston is awaiting trial on allegations that he cheated the US Treasury out of more than half a billion dollars worth of tax credits, at least $210 million of which he allegedly funneled into Turkey.