An alleged paramilitary group established after a July 2016 coup attempt in Turkey is raising money for the purpose of mobilization against threats to the government, particularly an "economic war" against Turkey.
The group currently operates under the name of the "National Mobilization Movement"  (MSH) after changing its initial name, the "People's Private Forces" (HÖH), under the leadership of Fatih Kaya, who ran for parliament from the ruling Justice and Development Party (AKP).
After failing to win a seat in parliament Kaya re-named the organization in an effort to "fearlessly stand against threats." The initial name was criticized by the opposition for sounding like a paramilitary organization. Under the previous name, members posed with guns and posted tweets under their banner.
TR724 reported on Monday that the alleged paramilitary group is now raising money to fight against the "economic war" against Turkey.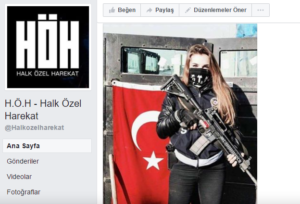 Following the July 2016 coup attempt, by means of a presidential decree issued in December 2017, people who help suppress coup attempts and terrorist attacks are considered exempt from prosecution. As a result of this move, the opposition criticized organizations such as HÖH-MSH for being paramilitary forces of the government.
Since the failed coup, there has been a tremendous increase in privately owned weapons among Turks amid reports that government officials and mayors distributed weapons to pro-government individuals.