Ninety-year-old Ara Güler, iconic Turkish photographer and journalist, died on Wednesday evening from congestive heart failure at the Florence Hospital in İstanbul.
He was born into an Armenian family in İstanbul, and although he wanted to become a playwright, started out in journalism in 1950 at the now-closed Yeni İstanbul daily.
He soon chose the field of photojournalism and worked for US magazines Time and Life. In 1962 Photography Annual, published in the UK, named him among the seven best photographers in the world.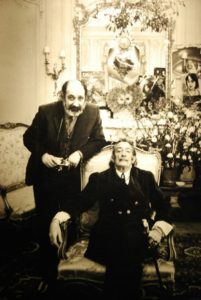 Worldwide fame gave him the opportunity to conduct photo-interviews with such celebrities as Salvador Dali, Picasso, Winston Churchill, Arnold Toynbee, Orson Welles, Alfred Hitchcock and Bertrand Russell.
He photographed buildings designed by famous 16th century Ottoman architect Mimar Sinan, a work that was presented in several European cities.
Extensively photographing Turkey's largest city, he was eventually dubbed the "Eye of İstanbul." He also photographed cities, towns and ancient ruins in Anatolia.
In 2015 he was criticized by opposition parties for photographing Turkish President Recep Tayyip Erdoğan but defended his work, saying it was "journalism."
"I would say 0.5 out of 100," he said when asked if he had any hope for the younger generations, adding, "Because they worship money."
To the follow-up question of "How do you see today's world?" he said: "The world has been experiencing its shittiest days. Idiots are all around…"