Turkish President Recep Tayyip Erdoğan's job approval fell to 44.5 percent in August, while the disapproval rate increased to 46.7 percent, according to a recent poll by the MetroPoll company.
The numbers indicate a significant decline from 53.1 percent immediately after presidential and parliamentary elections of June 24, the Cumhuriyet daily reported.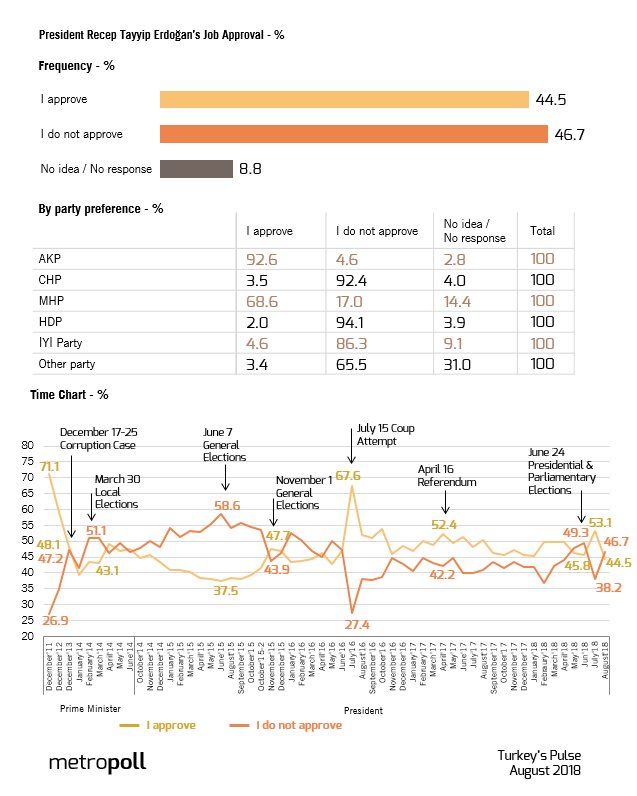 A total of 46.7 percent of participants do not approve of Erdoğan's performance as president, up from 38.2 percent in late June.
However, the endorsement of supporters of the Nationalist Movement Party (MHP), which formed an alliance with Erdoğan's Justice and Development Party (AKP) in the elections, rose significantly from 30 percent in May to 68.8 percent in the recent poll.
Erdoğan's job approval was around 68 percent immediately after a foiled coup attempt on July 15, 2016.
More than 90 percent of the voters of the main opposition Republican People's Party (CHP), the pro-Kurdish Peoples' Democratic Party (HDP) and the nationalist İYİ (Good) Party did not approve of Erdoğan's job as president.
Observers interpreted the decline in Erdoğan's job approval as a side effect of a currency crisis that has seriously affected markets.
The Turkish lira has lost more than 50 percent of its value since the beginning of the year and accelerated after the elections, resulting in increasingly high inflation.