[avatar user="ABozkurt" size="thumbnail" align="left" link="file" /]
Abdullah Bozkurt
A hushed-up investigation in Turkey's capital city of Ankara in early 2014 reveals how intelligence officers on the payroll of the National Intelligence Organization (MİT) were involved in drug trafficking and the transport of foreign fighters and stolen vehicles to jihadists in Syria.
The confidential probe pursued by Turkish military intelligence into the activities of drug traffickers and an auto theft gang in Ankara exposed seven MİT agents who were unlawfully transporting drugs and stolen vehicles to jihadist groups supported by the government of President Recep Tayyip Erdoğan. The clandestine operation was in clear breach of dozens of Turkish criminal laws as well as the Erdoğan government's commitments under international treaties to which Turkey is a party.
The military intelligence officers who were working for the gendarmerie command in Ankara province had been monitoring a gang that was stealing vehicles, mainly flatbed trucks that can be mounted with a machine gun and that are in popular demand by jihadist groups in Syria. The gang was also involved in drug trafficking. The confidential intelligence information also noted that the men were involved in moving foreign nationals through Turkey to jihadist regions of Syria. There were enough red flags to expand the investigation, and that is exactly what the gendarmerie, responsible for law enforcement in rural areas of Turkey, did.
As part of the investigation by the gendarmerie, Turkish courts in Ankara authorized wiretap warrants for 42 mobile phones used by 29 people who were listed as suspects. The judges at the Ankara 13th High Criminal Court cited Law No. 5607, which includes anti-smuggling measures for wiretap authorization. There were three separate judgments issued for the surveillance as follows: Court order No. 2014/51 was obtained on Jan. 7, 2014 and included an MİT officer among the suspects targeted for surveillance. The court's wiretap order No. 2014/122 was secured on Jan. 14, 2014 and included three MİT officers, while order No. 2014/144 was issued on Jan. 17, 2014 and included 2 MİT officers and one person who was using a mobile number that belonged to his wife, who was also working for the Turkish intelligence agency.
Neither the investigators at the gendarmerie command in Ankara nor the judges who authorized wiretaps knew that any of the targeted suspects were actually working for or connected to the MİT intelligence organization. The names were obtained from informants in the field and from a follow-up to an investigation in 2013 that resulted in a crackdown on stolen vehicle trafficking from Istanbul through Ankara and Hatay, with the end destination being the groups in Syria. In that probe 19 people were arrested in six separate security operations, and three of them were found to be linked to the al-Qaeda terrorist organization. A total of 22 vehicles including a tractor-trailer were among seized by the law enforcement agency at the time.
Turkish investigators discovered the identity of the MİT agents when the smugglers talked about a large shipment of tractor-trailers on the phone with cryptic messages that were decoded by gendarmerie intelligence. In their fieldwork, they ascertained the license plate numbers, the time of the shipment and its origin and destination. When the trucks were seized in the border province of Hatay on Jan. 19. 2014, all hell broke loose. The load was full of heavy weaponry including mortar shells, anti-aircraft ammunition, drugs and military supplies. Erdoğan personally intervened in freeing the intercepted shipment and later orchestrated the dismissal of the lead investigators in the case.
However, the scandal triggered several investigations before Erdoğan managed to contain the fallout, leaving a huge paper trail and evidence to support serious accusations that his government had been in bed with jihadists for years. Although the government secured a gag order to prevent leaks, many documents ended up in the hands of investigative journalists including myself. One document in the cache of files, signed by deputy undersecretary of MİT Ismail Hakkı Musa, who is now Turkey's ambassador to France, shows MİT admitted that over half a dozen suspects who were under surveillance for drug trafficking were intelligence officers. In document No. 2014/178-55643277 and dated May 27, 2014, Musa acknowledged that all of the seven people who were wiretapped by the court were MİT agents but declined to list their names for fear of an exposé when they were already identified in the wiretap orders.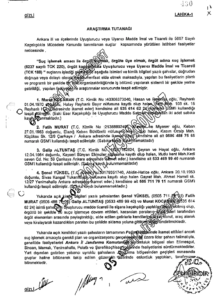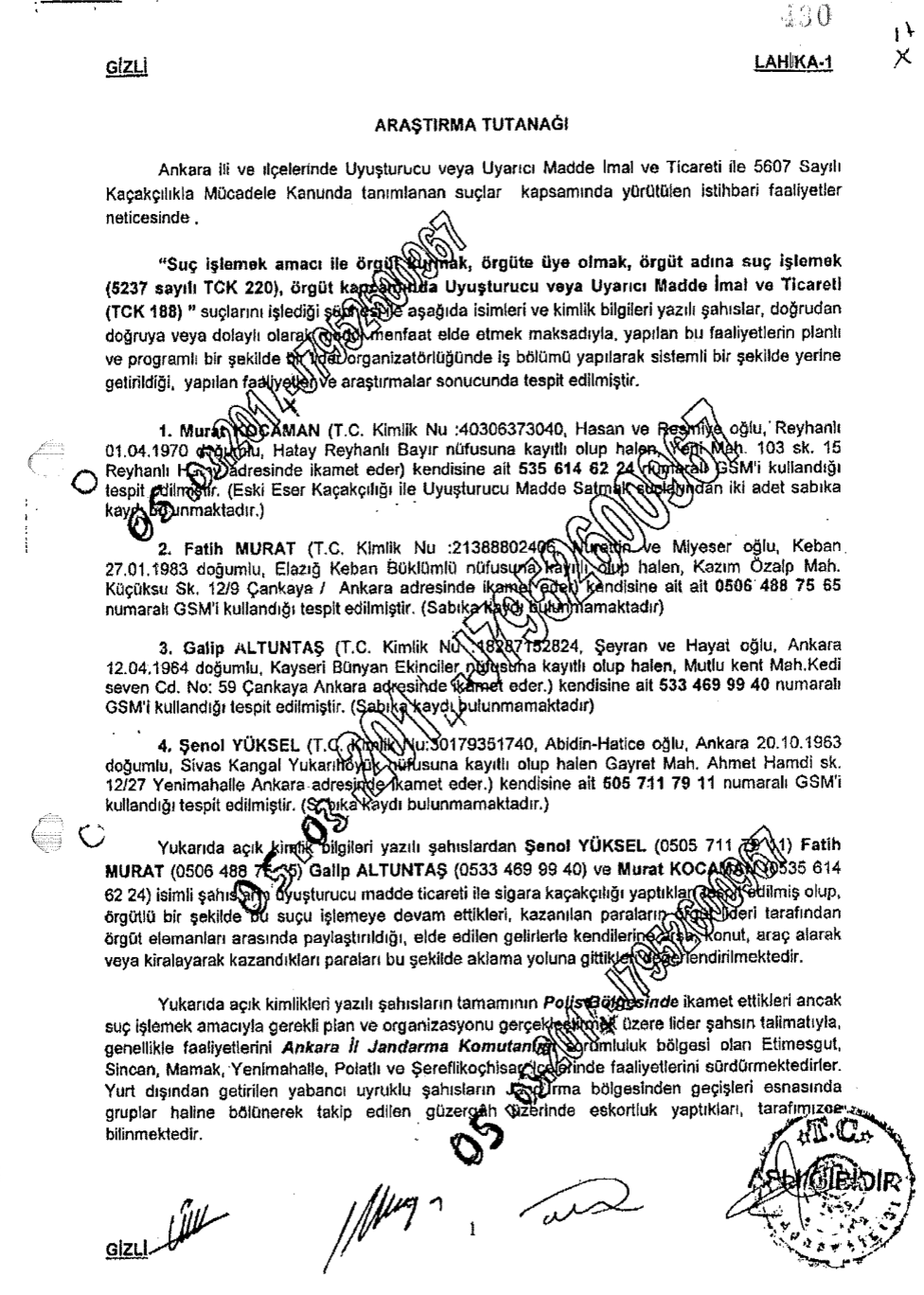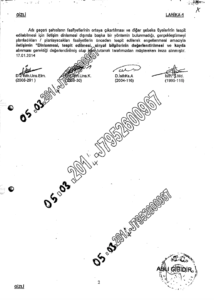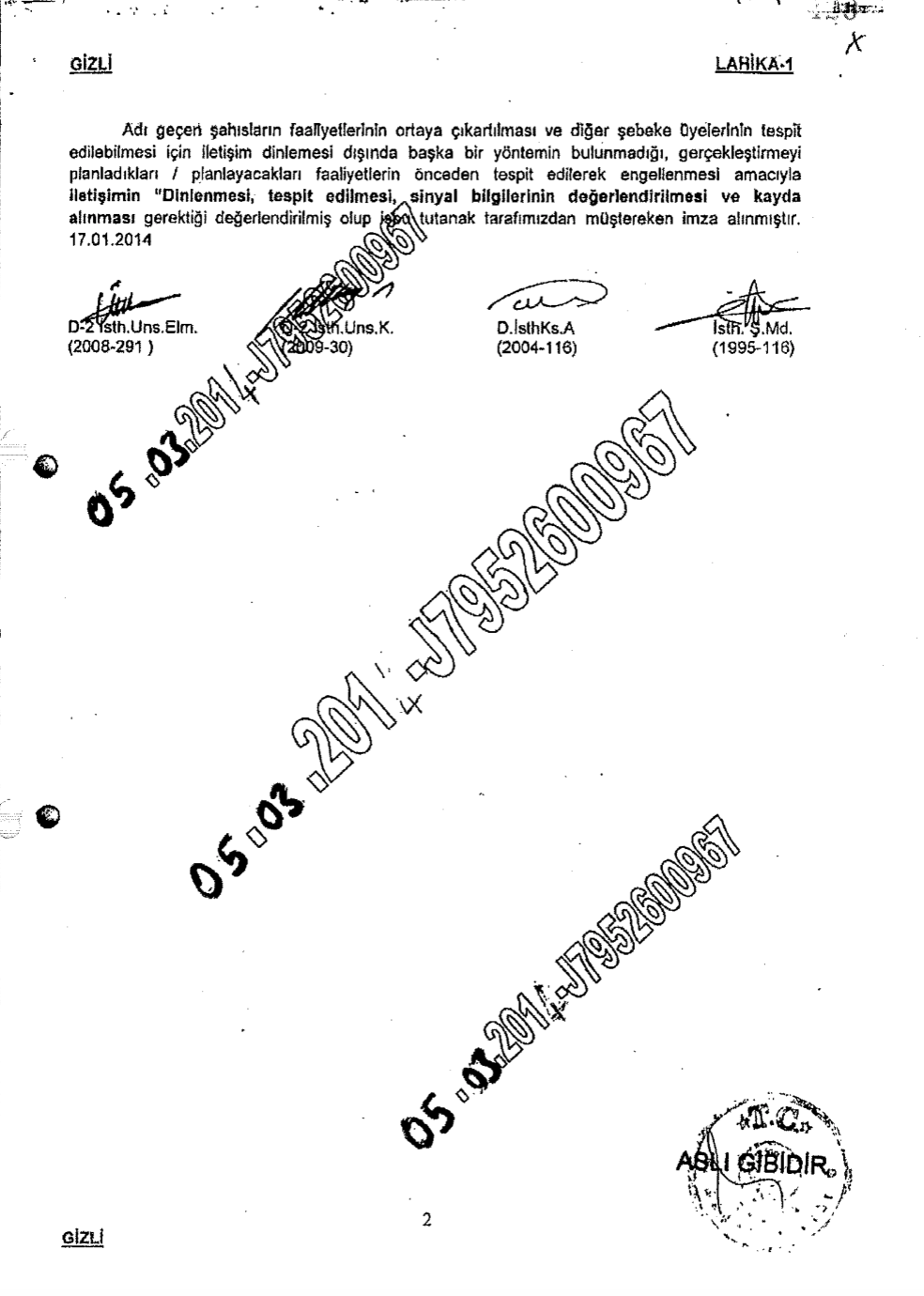 In a legal motion submitted to the court on Jan. 17, 2014 by the gendarmerie, four people, identified as Murat Kocaman, Fatih Murat, Galip Altuntaş and Şenol Yüksel, were accused of engaging in drug trafficking and illegal cigarette trade. The motion said these people laundered the dirty money earned from this trade by investing in cars and properties. The motion also detailed how they were providing escorts for foreign nationals as they crossed Turkey, suggesting they were also involved in moving foreign jihadists through the country. Kocaman, a 48-year old resident of the Turkish border city of Reyhanlı in Hatay province, already had a rap sheet with two convictions for smuggling drugs and historic artifacts.
MİT's deputy undersecretary Musa acknowledged in his letter that two people in this Jan. 17 warrant were MİT officers and that one was married to a woman who also worked for MİT. That raises a serious question for the Erdoğan government: What was MİT doing with a convicted drug smuggler and an illegal arts dealer? This also explains about white powder seen in the trunk of the MİT escort car that was accompanying the three intercepted trucks carrying arms on the Syrian border on Jan. 19, 2014. Turkish intelligence was not only moving arms and fighters to jihadist groups but also transporting narcotics for them.
In the first motion submitted to the Ankara court, on Jan. 7, 2014 by the Ankara gendarmerie command, 10 suspects were identified as engaging in an illegal drug trafficking network. They were Bülent Çetin, Hasan Karaca, Hacı Ramazan Beşkaya, Kemal Keskin, Mustafa Bozkurt, Kaan Kürşat Karaahmetoglu, Hüseyin Öztürk, Netice Özdemir, Murat Türe and Mehmet Ali Gümüş. Again, one person among these suspects was named by MİT as working for the intelligence agency. In the second motion submitted to the court on Jan. 14, 2014, the gendarmerie asked the judge to authorize wiretap warrants for eight additional people. The second warrant from the court is missing from the leaked documents, but at least we know for sure that the three suspects were MİT agents.
Interestingly none of the MİT agents who were working closely with drug smugglers and traffickers were using company-issued telephones, in breach of regulations. All the mobile phones were registered in their names, and when the gendarmerie checked the phone records, it did not raise any alarm bells that they actually worked for MİT. Moreover, when the illegal arms and drugs shipment was intercepted on Jan. 19, the four MİT officers who were escorting the trucks failed to provide any authorization for a mission from the agency. This further confirms the view that Erdoğan's secret plot to empower jihadists in Turkey and abroad was off the books and run by factions operating independent of established rules and procedures.
Gendarmerie Capt. Hakan Gencer and Staff Sgt. Gültekin Menge, who were working for the intelligence branch of the Ankara gendarmerie command and played a key role in uncovering this illegal MİT operation, were later arrested on fabricated charges of espionage and obtaining state secrets. The illegal act cannot be deemed a state secret, and espionage requires a foreign country as a beneficiary. These men and others on their teams did what the law required of them but were punished for simply doing their jobs. Prosecutors, judges and generals who were involved in uncovering Erdoğan's plots were all punished when the rule of law ceased to exist in Erdoğan's Turkey. Even then-judge Hakan Oruç, who issued ruling No. 2014/144 and authorized the wiretap for the drug traffickers, was later dismissed from his job and arrested on dubious charges. Erdoğan had him convicted in a kangaroo court in March 2018 and sentenced to eight years, nine months in prison in order to send a message to others who might have been thinking of exposing his nefarious plots.
Erdoğan may think he turned the game in his favor in the short run, but he will be held accountable one day when the rule of law is restored in Turkey. Perhaps he will be even called to account in an international tribunal for the crimes he and his associates have committed against the citizens of other countries by sponsoring terrorist jihadist groups.