[avatar user="ABozkurt" size="thumbnail" align="left" link="file" /]
Abdullah Bozkurt
It was hardly surprising to see that a former al-Qaeda suspect was nominated as a front-runner candidate for a parliamentary seat in the June 24 snap elections in Turkey by the Islamist-rooted Justice and Development Party (AKP) government, which is led by President Recep Tayyip Erdoğan, a man who has empowered the al-Qaeda enterprise in Turkey, a pre-dominantly Sunni nation of 81 million people.
Osman Nuri Gülaçar, a 53-year-old imam, is the leading candidate on the AKP ticket from Turkey's eastern province of Van, where he would represent a conservative constituency and will most likely be elected given the voting tally in the last national election of Nov. 1, 2015 during which Erdoğan's party picked up two seats. He will be running mainly against the pro-Kurdish Peoples' Democratic Party (HDP), which maintains a strong presence in Van province. He was nominated as a mayoral candidate in 2014 for the Greater Van Municipality but lost the election to the HDP nominee who would later be removed by the Erdoğan government in an abrupt and unlawful move.
Gülaçar, a hate-spewing preacher, was detained on Oct. 14, 2009 along with 15 other suspects as part of an investigation into al-Qaeda. He and two other suspects, identified as Fevzi Yılmaz and Özkan Kervan, were subsequently arrested. Murat İdrak, a fugitive who was convicted for his role in al-Qaeda attacks in 2003 against synagogues, the British Consulate General and a British HSBC bank in İstanbul that killed 57 Turkish citizens, was also nabbed in the same sweep and sent to prison to serve his time. Gülaçar spent two months in pretrial detention before he was released pending trial after Erdoğan intervened in his case. His father, Ebubekir Gülaçar, the then-chairman of the AKP branch in Van province, called in favors with Erdoğan, who helped him get an acquittal at the Van 3rd High Criminal Court in May 2013 after four years of trial proceedings. Despite serious charges against him and the prosecutor's accusation of him being a senior leader of al-Qaeda who ran the terrorist group's network in the province, the Erdoğan government kept him on the government payroll so he could continue delivering vile sermons in a city mosque run by the Diyanet, the government's religious affairs directorate.
He also ran the pro-Erdoğan religious Ensar Foundation's Van provincial branch for years and cultivated relations with Turkey's Iran-backed Hizbullah (not related to Lebanon's Hezbollah), listed as a terrorist organization by Turkey. In campaign rallies during mayoral campaign tours, Hizbullah brandished its flag in support of his candidacy against the HDP, the arch enemy of religious groups in the Kurdish provinces. Hizbullah officially endorsed Erdoğan for the June 24 presidential election and has been working to secure votes for him in Turkey's eastern and southeastern provinces. The group is known for vicious murders and assassinations committed in the 1990s with support from Turkish security elements as a counterweight to the outlawed Kurdistan Workers' Party (PKK).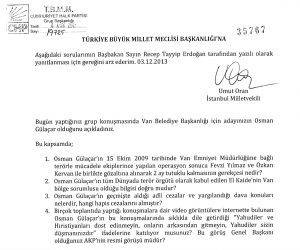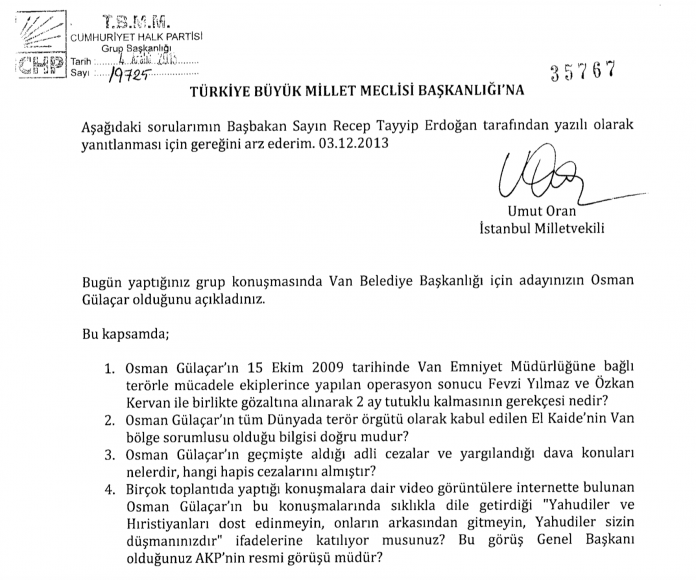 Turkish investigators had monitored Gülaçar's activities despite the political cover provided by the Erdoğan government and found he was linked to İbrahim Şen, a former Gitmo detainee and a convicted senior al-Qaeda militant. Şen worked as a trafficker and supplier for al-Qaeda-affiliated jihadist groups in Syria with coordination from Turkey's National Intelligence Organization (MIT) and was arrested in an al-Qaeda probe that was made public on Jan. 4, 2014. Gülaçar's home along with those of other suspects in the case were ordered to be searched by the prosecutor, who obtained warrants from the court. As expected, Erdoğan stepped in again and prevented the execution of the warrants by officers who were deployed to his home. The case was later hushed up by the government, which was panicked about damaging revelations that Erdoğan's operatives were in bed with the al-Qaeda network in Turkey and in Syria.
Erdoğan did not respond to a parliamentary question filed by opposition lawmaker Umut Oran on Dec. 4, 2013. Oran had asked then-Prime Minister Erdoğan to explain Gülaçar's links to al-Qaeda and reveal the details of the criminal proceedings against him. He also asked whether the remarks of Gülaçar, who said Jews were enemies and that Christians and Jews cannot be friends of Turkey, reflected official AKP government policy. Although Erdoğan was obligated to respond to this question within two weeks according to the parliamentary rules of procedure, he simply ignored the question and declined to respond.
In the post-election era, Gülaçar will most likely be a lawmaker assuming important positions in parliamentary committees. This is certainly not an isolated incident showing the Erdoğan government's collusion with jihadist groups. There is a clear and distinct pattern whereby Erdoğan aided and abetted jihadist groups, especially with the start of the Arab revolutions in 2011, during which he saw an opportunity to set up proxy regimes from Tunisia and Libya to Egypt and Syria. His secret meetings with Saudi businessman Yasin al-Qadi while he was still designated as an al-Qaeda financier on both the UN and the US terror lists show how far he is willing to go to empower controversial figures. His open support for indicted al-Qaeda cleric Mehmet Doğan (aka Mollah Muhammed) is another example of a long list of investigations that he has helped hush up, securing al-Qaeda suspects and providing them political cover.