Turkish authorities have found the body of Aslı Doğan, a Turkish woman who went missing after a refugee boat carrying eight people capsized in the river that marks the border of Turkey and Greece on Feb. 13, 2018.
Thousands of people have fled Turkey due to a massive witch-hunt launched by the Justice and Development Party (AKP) government against the Gülen movement in the wake of a failed coup attempt on July 15, 2016.
The government accuses the Gülen movement of masterminding the coup, although the group denies any involvement.
In a bid to escape the post-coup crackdown, on the night of Feb. 13, Doğan and seven other Gülen movement supporters were trying to cross the Maritsa River in a rubber dinghy.
However, three of them reportedly drowned when their boat capsized in the middle of the river, while Doğan and two others went missing. Only one of them made it to Greece.
Many have tried to escape Turkey by illegal means as the government has cancelled thousands of passports.
In November 2017 Huseyin Maden, a 40-year-old Kastamonu teacher, dismissed in the aftermath of the failed coup, drowned along with his wife and three children while seeking to escape to the Greek island of Lesvos.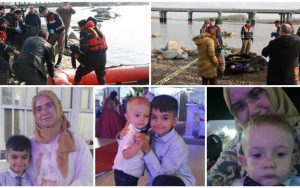 (Turkey Purge)