by Abdullah Bozkurt
When, not if, one day Turkey's Islamist rulers stand trial for empowering armed jihadists who have wreaked havoc in Syria and other battleground places, two men must appear on the defendant's bench next to Turkish President Recep Tayyip Erdoğan. They were the key enablers who helped prevent the criminal justice system in Turkey from cracking down on radical networks, the trafficking of fighters and the conveyance of arms shipments. As co-conspirators, they aided and abetted radical armed groups including al-Qaeda.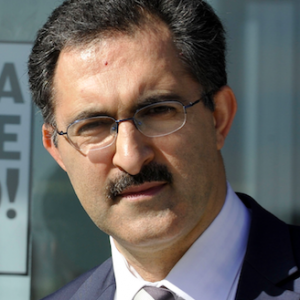 These two men are Bekir Bozdağ, deputy prime minister, government spokesperson and former justice minister, and Kenan İpek, former undersecretary of the Justice Ministry, former justice minister and currently a member of the Supreme Court of Appeals, Turkey's top court. The former comes from an Islamist background in his early years and is jokingly known in Ankara circles to be a sidekick of Erdoğan, who he worships. İpek is a neo-nationalist whose fingerprints were all over dirty clandestine schemes run by rogue elements within the Turkish state. This pair turned Turkey's judiciary into a partisan whip in the hands of Erdoğan after their boss was incriminated in Turkey's biggest-ever corruption case, which went public in December 2013.
These two men have played key roles in fabricating criminal prosecutions to persecute government critics and opponents. They engineered a hoax terror group called FETÖ while giving a free ride to jihadists who strap on bombs to blow up innocent people. The unpublicized revolving door policy in which jihadists were often rounded up to give a pretense of Turkey battling DAESH and al-Qaeda while they were quickly released through the back door was crafted by these guys and their associates in the Turkish judiciary.
The evidence on how Bozdağ and his deputy İpek protected illegal arms shipments to jihadists in Syria was unearthed from among thousands of confidential documents classified as secret by the Erdoğan government. The incident that details how Bozdağ secured the release of illegal arms shipments to jihadists that were intercepted on Jan. 1, 2014 by law enforcement agencies in the border province of Hatay laid bare the deep involvement of Turkey's rulers in this bloody proxy war in Syria. The flurry of phone calls by Bozdağ and his deputy after the interception of an arms-laden truck were put into the record and later turned into criminal evidence against them.
Süleyman Bağrıyanık, the chief public prosecutor in Turkey's southern province of Adana where the US-led anti-DAESH forces are deployed at Incirlik Air Base, disclosed the contents of the conversations he had with Bozdağ and İpek in a sealed case file on Jan. 2, 2014. Bozdağ is a representative of the executive branch, and the Turkish Constitution strictly prohibits any person or organ including the executive branch from interfering in judicial matters. Yet he attempted to order prosecutors to drop the investigation of arms shipments to al-Qaeda groups in Syria. When Turkish intelligence officers were caught red-handed with an illegal shipment of arms heading across the Turkish border, Bozdağ and İpek placed several calls to chief prosecutor Bağrıyanık.
According to the deposition provided by Bağrıyanık, İpek had called him many times trying to convince him to let the shipment go without execution of a judicial search and seizure warrant. First, he tried to make a legal case by claiming that the Law on Intelligence requires permission from then-Prime Minister Erdoğan before any investigation or prosecution of intelligence agency MIT can proceed. He also invoked a state secrets argument to strengthen his case. Yet, Bağrıyanık, a veteran prosecutor who had been hunting down radical terror groups for years, knew the Justice Ministry had no standing at all on any legal grounds. MIT had no authority to transfer arms, especially without informing local law enforcement agencies in advance, and providing arms to criminal and terrorist groups cannot be considered a state secret.
When İpek realized that his efforts to convince the chief prosecutor were not working, he started threatening him with the ramifications, by saying he would be sorry afterwards if he did something wrong. He asked the chief prosecutor to pull out the public prosecutors who were in the field investigating the truck, the escort vehicle and the suspects. Bağrıyanık wouldn't budge and said he would proceed according to the law and regulations in effect. Then, Justice Minister Bozdağ stepped in when İpek turned the phone over to him to talk to the chief prosecutor. Bozdağ made similar arguments, claiming that the investigation into MIT agents requires permission from the Prime Minister's Office and asked him to stop the search and to halt execution of the warrant.
What is more, Bozdağ told the chief prosecutor that Interior Minister Efkan Ala and the head of MIT, Hakan Fidan, were sitting next to him as he spoke on the phone and that they assured him there were no arms in the cargo of the intercepted truck. He even made the point that the chief prosecutor should take the word of the intel chief and interior minister as opposed to a tip provided by a whistleblower. In a blatant violation of the constitution and the law, Bozdağ asked the chief prosecutor to sack the public prosecutors working in the field at that moment and immediately inform the police and gendarmerie about their dismissal so they could leave the area and allow the shipment to proceed.
The courageous prosecutor Bağrıyanık did not yield to this intense pressure from the government and decided to stand by the prosecutors who were investigating the truck. However, the government ordered law enforcement agencies to pull out from the scene, leaving the prosecutors without protection or manpower to complete the search of the truck. In the meantime, intelligence chief Fidan dispatched about a dozen more officers to the scene from Ankara to engage in a shootout and threaten the prosecutors, who were eventually forced to leave for fear of their lives.
In a sealed letter sent to public prosecutor Aziz Takçı on Jan. 13, 2014, Adana Chief Public Prosecutor Bağrıyanık explained the government's unlawful interference into a criminal probe and asked prosecutor Takçı to do what was required under the law and charge the government officials who thwarted the investigation in defiance of the law. After investigating the facts, Takçı issued decision No.2014/4 as part of the criminal probe under case file No.2014/2, stating that local officials who left the crime scene despite explicit orders from the investigating prosecutors violated several laws including dereliction of duty and charged them under the Turkish Penal Code (TCK) and in accordance with the Code on Criminal Procedure (CMK).
Public prosecutor Takçı charged İpek, the Justice Ministry's number two, with five counts because he had no judicial role in a criminal investigation yet he decided to interfere in an ongoing criminal probe, threatened the prosecutors, conveyed the wrong information about the identity of intelligence officers who were transporting the truck and informed his superiors about a confidential investigation. The charges included covering up criminal evidence, aiding and abetting criminals, abuse of power, breach of confidentiality and threatening a public official under Articles 257(1), 281(1,2) 283(1,2), 285(1) and 106(1) of the TCK.
As a result, İpek was listed as a suspect and his case was referred to the Supreme Board of Judges and Prosecutors (HSYK) for prosecution under Law No. 6087, which required special procedures for the criminal prosecution of the Justice Ministry undersecretary, who is also a member of the HSYK.
The criminal probe into Justice Minister Bozdağ, who is also listed as a suspect in the illegal arms shipment case along with other officials, was separated by prosecutor Takçı. The prosecution of a Cabinet minister requires separate procedures in the Turkish Parliament and as such, a summary of proceedings against him with case file No. 2014/54 was sent to Parliament for review. Parliament sets up a commission to investigate the facts after a vote is secured in the plenary, and the case may later be referred to the Constitutional Court for trial if the commission gives a green light on the prosecution.
Both Bozdağ and İpek were saved from legal troubles when the Erdoğan government hastily pushed legislation through Parliament to reshape the HSYK, the judicial council that decides on promotions, assignments and disciplinary proceedings against judges and prosecutors. With control of the judicial council in government hands, prosecutors Bağrıyanık and Takçı were reassigned to other posts and later dismissed and jailed on fabricated charges of revealing state secrets and espionage. The criminal investigations they launched into Islamist officials for aiding and abetting al-Qaeda were dropped and the paperwork concerning the illegal arms shipments was deemed classified and a blanket media gag order was obtained against the publication of any materials with respect to this incident.
Perhaps when the rule of law is restored in Turkey, Bozdağ and İpek as well as their master Erdoğan will be held accountable for fueling a dirty war in a neighboring country and empowering jihadists in Turkey and abroad. If not, one can hope that a case in an international court will be launched one day to address human rights violations by DAESH and al-Qaeda, putting the spotlight on this lingering impunity in Turkey. Without holding these fanatical politicians in a position of power and influence to account, jihadists under new names will continue to terrorize the world.