Qatari Emir Sheikh Tamim bin Hamad al-Thani and Turkish President Recep Tayyip Erdoğan inaugurated a new football stadium in Turkey's Black Sea province of Trabzon on Sunday.
Akyazı Şenol Güneş Stadium, with a 42,000-person capacity, is on an artificially created island in the Black Sea and was opened by Erdoğan and al-Thani in a grand ceremony.
A giant photo of al-Thani was hung along with pictures of Turkey's founder, Mustafa Kemal Atatürk, President Erdoğan and Prime Minister Binali Yıldırım in the stadium.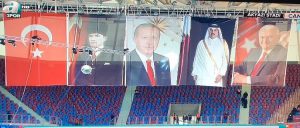 Earlier in day, Erdoğan took al-Thani on a tour of Trabzon in the Turkish Presidency's official helicopter and briefed him on places in which the Qatar emir may want to invest, presidential sources said.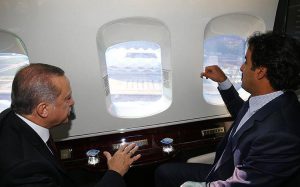 Erdoğan and al-Thani also presided over the 2nd Turkey-Qatar Supreme Strategic Committee Meeting, which was held Sunday in Trabzon with an agenda for the further deepening of bilateral relations between Turkey and Qatar.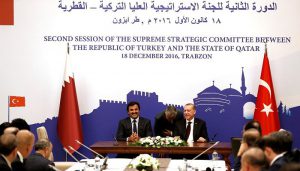 The Turkish Presidency said in a statement on Sunday that memorandums of understanding for cooperation, including in the defense industry, action plans and a joint declaration between the two countries in such areas as education, health, finance, information, communications, youth, sports, culture, customs and agriculture were signed by officials of the two countries in the presence Erdoğan and al-Thani.
Prior to the meeting, Erdoğan and al-Thani held private talks at the Ramada Hotel in Trabzon.