Thirty representatives of foreign missions on Monday visited the site of twin bomb blasts that killed 44 in Beşiktaş on Saturday night.
Consuls general serving in İstanbul gathered at Dolmabahçe Palace and walked to the scene of the attacks outside the Vodafone Arena football stadium. An unidentified man protested the diplomats after they laid wreaths in memory of the victims.
"They killed and now are laying wreaths. All are here, the murderers are here," shouted the man, holding up a wreath left by the Netherlands consul general, the media reported. Police quickly removed the man from the scene.
The Kurdistan Freedom Hawks (TAK), an offshoot of the terrorist Kurdistan Workers' Party (PKK), on Sunday claimed responsibility for the twin bomb attacks.
The explosions, triggered by a car and a suicide bomber less than one minute apart, struck outside the Beşiktaş football team's stadium less than two hours after a match had finished on Saturday evening.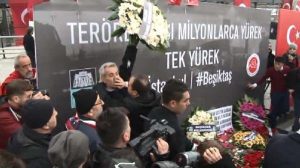 An unidentified man protested the diplomats after they laid wreaths in memory of the victims: "They killed and now are laying wreaths. All are here, the murderers are here."