Abdullah Bozkurt
The plain, simple and bitter truth is that Turkey's Islamist rulers have supported and maintained parallel networks in Europe; thrown political, diplomatic and financial support to front NGOs whose role is to promote hatred; and run a campaign of intimidation and curtailed free speech in European nations that are home to large Turkish and Muslim expatriate communities.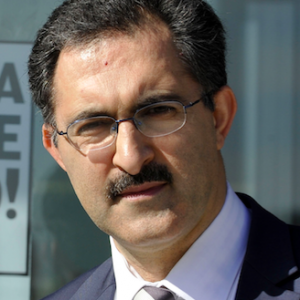 Delivering a very passionate speech last month at the European Parliament, Guy Verhofstadt, president of the Alliance of Liberals and Democrats for Europe, called this a fifth column that is being operated by the cronies of autocratic president Recep Tayyip Erdoğan to undermine Europe from within. He called on lawmakers to fight for European values and send a strong message to Erdoğan by freezing the accession talks with Turkey, which will most likely threaten this autocrat's economic lifeline.
Turkey's top Islamist has been secretly organizing clandestine networks in Europe to extend his influence and to create a network of supporters among Turkish and Muslim communities (especially from Egypt, Syria, Somalia and the Balkans) that could be called to serve the political goals of Erdogan. Just last week, we saw how this network was mobilized by Erdoğan in Germany, Belgium, Austria and Luxembourg where crowds gathered to show their support for this autocrat's goals. The drive ran in parallel with similar rallies held by youth and women's branches of the ruling Justice and Development Party (AKP) in front of the embassies of these countries in Ankara. With this showdown, Erdoğan hopes that the EU will give in on critical issues where the EU has shown resistance.
As opposed to a constructive engagement that would help Turkish and Muslim immigrant communities to better integrate with host nations, Erdoğan's plan is rather based on playing a "spoiler card" in the heart of Europe by creating a groundswell of public support that will be difficult to restrain when push comes to shove. For that, he funds shell companies to run the fuel line for these networks and even pours in cash from a secret stash of state discretionary funds using the diplomatic pouch. It is not surprising to see that some European politicians including several EU lawmakers were hooked by this. Some have already been exposed by name and shamed publicly, while others are waiting their turn as confidential investigations close in. These Erdoğan apologists, who are now paying their dues by taking a position against his critics and opponents, will be sidelined and marginalized.
The heavyweights in Erdoğan's fifth column in Europe comprise three major organizations that were set up on political and religious grounds to cater to different constituencies. There are hundreds of other NGOs clustered around these big boys that move in unison when given orders. In addition to raising funds and local recruitment, they are well financed by the Turkish government and supported diplomatically and politically. To volunteers they offer perks such as facilitation of their business and family dealings in the motherland, or positions in the Turkish government or government-linked institutions for their relatives. For Erdoğan critics, they run an intimidation campaign by profiling them and alerting authorities back in Turkey so that friends and families face repression and even jail time.
The easiest way to discern the pattern among these NGOs and Erdoğan's political machinations is by looking at how they quickly pile on when Erdoğan wants. The first organization is the Union of European Turkish Democrats (UETD), founded in Germany in 2004 but later expanded to other European countries — France, Belgium, Austria, Netherlands and the UK. It has been totally transformed into an Islamist grassroot base for Erdoğan. The organization, working closely with Turkish embassies, is an important vehicle in delivering results for Erdoğan from get-out-to-vote campaigns to lobbying activities in European capitals. Turkish government officials are encouraged to spare time to meet and attend events organized by the UETD when they go to Europe. President Erdoğan's travel itinerary often includes a meeting with UETD officials on the sidelines of his official visits.
While the UETD focuses exclusively on Turkish expat communities, the Union of NGOs of the Islamic World (UNIW), another NGO set up by Turkish Islamist rulers in 2005, actively works among Muslim communities in Europe and other continents. Among its members are controversial charity groups such as International Humanitarian Relief (IHH), accused of arms smuggling to rebels in Syria, and the Ensar Foundation, which was involved in a spree of rapes of dozens of children in the conservative Turkish district of Karaman. Erdoğan orchestrated the coverup of criminal investigations into both and protected them from prosecution. The UNIW has been running various schemes in Europe, linking up with Muslim groups in order to secure their loyalty to the undeclared Caliph Erdoğan.
The leaked emails of Erdoğan's son-in-law Berat Albayrak, authenticated inadvertently by a court complaint, revealed that both the UETD and UNIW have worked together in Europe to promote goals set up by the Erdoğan family. In an email dated Jan. 21, 2013 and sent to Albayrak, a man named İsmail Emanet, then head of the youth branches of the UNIW, sent a detailed report to Erdoğan's son-in-law on activities in Europe. In the 19-page report, Emanet, who is now advisor to Energy Minister Albayrak, said the UETD must be overhauled to better realign with the Islamist government's goals and suggested that the Turkish-Islamic Union for Religious Affairs (DİTİB), the wealthy organization that is run by imams and was sent by the Turkish government to Europe, work closely with the UETD.
The DİTİB, which used be an apolitical religious network that was relied upon by secular governments in the past, has for some time now been transformed into an instrument of hate-mongering and anti-Western political machinations by President Erdoğan. With its control of so many mosques in Europe and the huge financial resources at its disposal, the DİTİB presents serious challenges to the integration policies of all European countries that host sizable Turkish communities. In November 2015, the UETD awarded DİTİB-affiliated imams in Germany certificates of appreciations for their role in the Nov. 1 elections, which restored the parliamentary majority to Erdoğan's AKP.
As European politicians are hobbled by internal divisions, Erdoğan sees a moment of opportunity to advance his fifth column in the heart of Europe. Using the front NGOs and transformed grassroot networks, his intelligence operatives have stepped up their intel collection efforts, run clandestine schemes, plan false flags and even plot assassinations and murders of dissidents and critics. Using the migrant deal to blackmail the EU, Erdoğan is twisting arms and threatens Europe with a flood of refugees. It is not hard to imagine what he is planning secretly.
With this trajectory of boosting radicals and hooligans among the Turkish and Muslim communities of Europe, Turkey's Islamists have set relations with the EU back further. What is more troubling is that Erdoğan's xenophobic and anti-Western policies give more ammunition to far-right Islamophobic European politicians at the expense of moderate conservatives, liberals and social democrats. In other words, Erdoğan is undermining European values not just by advancing the fifth column of Islamist zealotry in the midst of Europe but also by giving a huge impetus to the extreme right. In the meantime law-abiding and peaceful Turks and Muslims in Europe find themselves under greater suspicion from the larger majority because of closer scrutiny as European authorities are scrambling to defuse the risk of Erdoğan's fifth column from developing effectively.
As a result, Turkey's autocratic president has not only migrants to mobilize in order to destabilize Europe but also an Islamist fifth column in the heart of Europe to march forward when the time comes. The militant religious networks are already mushrooming in Europe on fertile ground provided by this fifth column's clandestine activities.