Erkan Hayla, mayor of the Kale district in Denizli province from the Justice and Development Party (AKP), has designed a dungeon in a newly restored fortress for future inmates from the Kurdistan Workers' Party (PKK) and the Gülen movement and has installed mannequins representing inmates along with fake rats.
According to a story on the DenizliHaber news portal, Hayla designed a dungeon for display in the basement of a newly restored fortress in the Bayraktepe neighborhood. Hayla said he has installed mannequins representing inmates from the PKK and the Gülen movement in order to spread fear among their sympathizers. He added that they have also installed fake rats and bugs in order to worsen the conditions of the prison to make it more persuasive.
"We have space in our [simulated] prison for those who target our nation, our flag and our unity. FETÖ and PKK members will also stay here. We are sending a message to terrorist organizations with the simulated prison. We are showing them that they will end up here," Haylan said.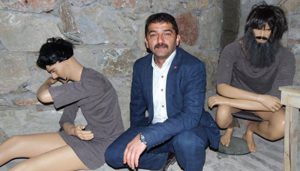 FETÖ is a derogatory term and acronym for the Fethullahist Terrorist Organization, coined by President Recep Tayyip Erdoğan and the AKP government to refer to the Gülen movement, inspired by the views of US-based Turkish Islamic scholar Fethullah Gülen, whom Erdoğan and the AKP accuse of masterminding a failed coup attempt in Turkey on July 15.
Despite Gülen having repeatedly denied the accusations and proposing the formation of an international commission to investigate the coup attempt, the AKP government has sacked more than 115,000 civil servants from state jobs, detained over 78,000 and arrested more than 37,000 over links to the Gülen movement, a civil society movement inspired by Gülen's views. The AKP government also closed or seized thousands of institutions, including schools, universities and business associations, over alleged ties with Gülen.