Police dispersed Boğaziçi University students who had gathered on campus on Monday to protest Professor Mehmed Özkan, who was controversially appointed rector by President Recep Tayyip Erdoğan on Nov. 12 under a state of emergency decree.
The students protesting the appointment of Özkan instead of former rector Professor Gülay Barbarosoğlu, who had won 86 percent of the votes of academics in a July election for the position, gathered at the main gate of the university on Monday morning.
Calling the appointment a "coup of the palace [Erdoğan] against universities" and promising to continue protests until the state of emergency decree that empowers the president directly appoint rectors is cancelled, the protesting students were stopped and dispersed by police, who beat and temporarily detained some of them.
Students also launched a social media campaign with #kayyımrektormehmed and #MehmedÖzkanRektörümüzDeğildir hashtags.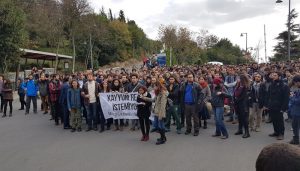 Meanwhile, Professor Özkan, who did not even run in the campus election, has vowed to protect the university's tradition of pluralism and free thought.
"I will work to continue to increase the success of our university in the academic and scientific fields, protecting the participatory, pluralistic and free tradition. I will work with all my strength to carry Boğaziçi's values to the future, which will be the essential priority during my tenure as rector," Özkan said in his first message to academics at the university.
Prof. Dr. Barbarosoğlu resigned on Saturday following the appointment of Özkan.
"I bid farewell to the university to which I have contributed as a student, an academic and an administrator for more than 40 years, and am ending my academic life," said Barbarosoğlu in a message she issued.