The education policies of the Justice and Development Party (AKP) government and the dismissal of some 50,000 teachers following a July 15 coup attempt in Turkey were protested by a group of teachers in Ankara on Wednesday, World Teachers Day.
Demonstrators gathered outside the Education Ministry, calling for secularism in education and waving a banner reading "Give teachers the right to a strong and democratic society."
"Teachers in Turkey welcome World Teachers Day under the shadow of unlawful dismissals and suspensions, with the threat of unemployment and concerns for the future," said Kamuran Karaca, head of Eğitim Sen (Education Personnel Union), to the press during the protest. Karaca also strongly criticized the government's new interview system for teacher candidates.
Applicants for teaching positions in Ankara seeking to replace some of the thousands of teachers who were dismissed in a massive purge following the failed coup on July 15 were asked political questions that had nothing to do with the teaching profession, Cumhuriyet reported on Oct. 1.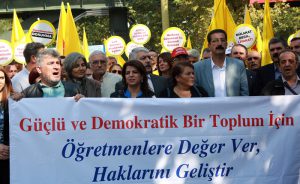 Their story revealed that the interviews included questions on politically controversial and divisive issues such as their choice of columnists and newspapers, their thoughts on the July 15 coup attempt, the highlights of President Recep Tayyip Erdoğan's latest speech or their feelings about critical leftist actor Tarık Akan, who recently passed away.
According to some candidates, the list of people who will be selected has already been determined since a number of them were reportedly not even asked any questions except their name, hometown and their alma maters. After the interviews, some candidates called for the resignation of Minister of Education İsmet Yılmaz.
Following a massive purge of teachers within the ministry in the post-coup period, 15,000 candidates applied for interviews to replace their colleagues who were dismissed from their jobs without due process.
The interviewees were also asked who they think of when they hear the word "chief," a label that Erdoğan supporters use to praise him.
They were in addition asked which prep school they attended as some answers are considered a sign of being a sympathizer of the Gülen movement, which ran a large network of educational institutions prior to Erdoğan's relentless witch-hunt.
The Education Ministry has suspended 11,285 teachers for supporting the terrorist Kurdistan Workers' Party (PKK), the state-run Anadolu news agency reported on Sept. 8. It is also reported that the number of teachers suspended is expected to rise to 14,000 after an investigation is completed with contributions from local governors' offices.
In accordance with a state of emergency decree published on Sept.1, 50,589 civil servants including 28,163 teachers have been dismissed and banned from employment at any state institution as part of the witch-hunt against the Gülen movement, which was accused by the government of masterminding the July 15 coup attempt.