Photos taken after the death of former Deputy Police Chief Mustafa Kabakçıoğlu, who was previously removed from his job and arrested due to alleged links to the faith-based Gülen movement and was found dead in a quarantine cell in the prison where he had been kept for four years, lay bare the conditions in Turkish prisons during the pandemic, Bold Medya reported on Wednesday.
The Justice and Development Party (AKP) government along with Turkish President Recep Tayyip Erdoğan blames the Gülen movement for a coup attempt that killed over 240 people and wounded more than a thousand others in Turkey on July 15, 2016.
On July 26, 2016, 44-year-old Kabakçıoğlu was arrested and sent to the Gümüşhane E Type Closed Prison during a massive purge that followed the abortive putsch and targeted members of the faith-based movement in Turkey.
The police officer was also removed from his post on September 1, 2016, as part of the first decree issued by the AKP government, which was followed by many more during the two-year-long state of emergency that was declared by Erdoğan days after the failed coup.
According to an exclusive report by Sevinç Özarslan from Bold Medya, Kabakçıoğlu, who was expected to be released from jail in March 2021, was found dead by prison guards in a plastic chair in his quarantine cell on August 29, after spending nine days in quarantine.
Already an asthma patient, the purged officer reportedly lost 40 kilos and developed diabetes while serving time at the Gümüşhane E Type Closed Prison due to the poor conditions of the facility.
Photos released by Bold Medya reveal the conditions in his quarantine cell, where Kabakçıoğlu's meal is seen placed on a trash bin, with water bottles and rolls of toilet paper scattered on the floor.
Kabakçıoğlu's coronavirus test came back negative
Although the purged police officer was put in quarantine over a suspected coronavirus infection based on increased coughing, his test result, which came back on the day that he was found dead, was negative.
Thinking that his death was not due to the coronavirus, Kabakçıoğlu's family filed a criminal complaint with the Gümüşhane Chief Public Prosecutor's Office demanding that the parties responsible for the imprisoned police officer's death be found and punished.
Kabakçıoğlu reportedly wrote his last petition informing the prison doctor of his deteriorating condition two days before his death, explaining that the medication he was given had produced side effects.
"There's extreme swelling on the left side of my mouth and on my left leg. I have difficulty walking and talking.  My arm feels numb while writing this petition," he said.
Although a doctor's note also appears in the petition, saying he recommends Kabakçıoğlu be transferred to a hospital for proper treatment, it is not clear whether the doctor's note was written before or after the prisoner's death.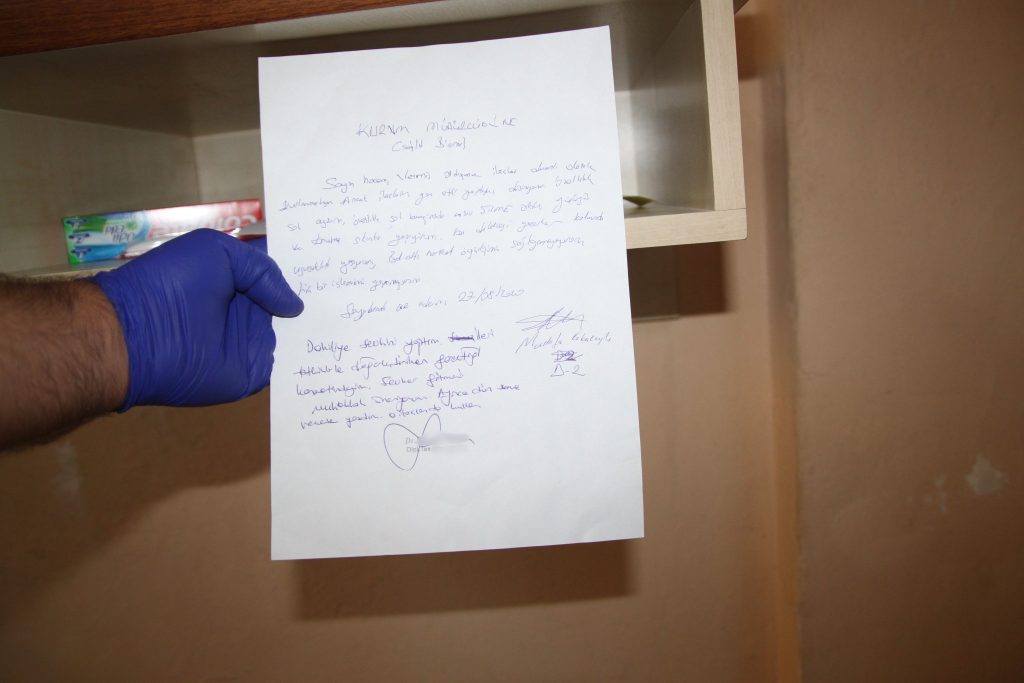 Bold Medya revealed another document, also dated August 27 and signed by the prison doctor, a medical assistant, and two prison guards, which says Kabakçıoğlu refused to be transferred to a hospital.
Although the Gülen movement strongly denies having any role in the abortive 2016 putsch, Erdoğan's government accuses it of having masterminded the failed coup and deems it a terrorist organization.
More than 135,000 people, including police officers, military personnel, journalists, teachers, lawyers and judges, have been dismissed from their jobs due to their real or alleged connection to the movement, the labor minister announced in January.
In order to ease overcrowding in jails and protect detainees from the coronavirus, the Turkish Parliament in April adopted an early release law that allowed for the release of tens of thousands of prisoners while categorically excluding those convicted on terrorism-related charges.
The bill prompted widespread criticism from dozens of rights groups in Turkey and around the world for not including those swept up in a massive crackdown that came after the abortive putsch.
Turkey's anti-terror prosecutions are widely criticized for being abusive and politically motivated.
The government has also been slammed for not addressing the situation of people held in pre-trial detention, who make up a significant portion of the country's prison population.
According to reports by Turkish news outlets critical of the Erdoğan administration, scores of prisoners across the country have died allegedly due to the negligence of prison authorities during the pandemic.